This is a sponsored post written by me on behalf of Similac® StrongMoms®. All opinions are 100% mine.
There is nothing like bringing home a newborn for the first time. You are flooded with emotions. You are hopeful and ready for this new life that you have waited for. Most likely you have been given advice, been told how life will be different with a newborn and maybe even have some tips ready to use. However, there a few things that no one tells your new life with a newborn. Who better to give that advice than a group of moms that have been there and want to impart their knowledge, so maybe you won't feel so alone.
"For me it was the fact that I had prepared myself so much for the pain of labor, but no one told me how awful I would feel after delivery. I was in so much pain and sooo tired for the first couple weeks. It was very depressing, but probably wouldn't have been so bad if I'd been mentally prepared for it." ~ MaryEllen, The Imperfect Homemaker
"Yes. Those first few weeks and days you are so tired! With my twins I, on several occasions, would dream I was taking care of my kids, only to wake up and realize they were still crying and I was still in bed." ~ Katelyn, What's Up Fagans
"No one tells you how you will worry about everything and question yourself a thousand times a day." ~ Amanda, Dirt & Boogers
"You might have to resort to some shameful music to calm your fussy newborn." ~ Kelly Holmes, The Reformed Idealist Mom
"You might read about some babies having "colic" but no one prepares you for what kind of torture it can really be!" ~ Rachael, Adventures in Wunderland
"No one tells you that the cavalry aren't coming to help. For the most part it's you and your baby and – while you can never be fully prepared for something you've never done – you should try at least a little." ~ Rachel , A Mother Far from Home
"No one told me how hard it would be. I was independent, and suddenly I had a baby depending on me for everything. It was a super hard adjustment. And unlike everything I read, I didn't want to hold the baby all the time." ~ Jodi, Meaningful Mama
 "No one tells you that you now feel like two different parts of the same person: before motherhood and after. Life seems so different, and not just because you have a baby to take care of. ~ Rachel, A Mother Far From Home
"Every decision you make will feel like the most important one in the world at that moment. But you must give yourself grace and forgiveness. And know that everything will be alright." ~ Krissy, B-Inspired Mama
"Babies don't smile for a fee weeks except maybe in their sleep… And they don't really make eye contact at first either. So try not to be discouraged or feel like you aren't bonding or that it isn't very rewarding yet. Give it time. In addition, I knew it would be hard, but I didn't realize how hard of an adjustment it would be to my self-worth and identity. No one seems to want to talk about that part…" ~ Katelyn, What's Up Fagans
Babies are supposed to make you happy. Unfortunately, your hormones get all jumbled up and can leave you feeling quite blue. I never knew how much these hormones could change the way I saw the world and, worse, my new baby. ~ Dayna, Lemon Lime Adventures
The truth about being a new mom is that you never know what is going to be thrown at you until you are in the middle of it! That's why it is so important to have a support system made up of other Strong Moms just like you!  Because, let's face it. There will be some days when you just aren't sure if you can do it alone. Now you don't have to!
Similac StrongMoms is just the place to find your village and find resources that can get you through even the toughest of days. Now you don't have to feel so alone! By joining Similac Strong Moms community, you will get a number of benefits such as emails with tips and tools, along with check lists, tools, like the diaper decoder and tummy trouble tool are all available through the program/website.
Capturing Memories from Bump to Baby Giveaway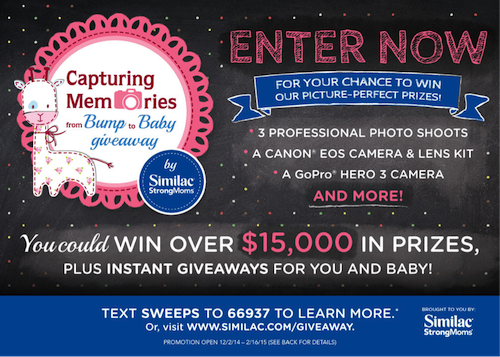 Make your Memories last a lifetime with the "Capturing Memories from Bump to Baby Giveaway." You could win the GRAND PRIZE Gift pack worth over $15,000. Plus play the instant win game for a chance to win one of our instant win prizes each day*. Grand Prize includes:
Three Professional Photo Shoots
Canon EOS Camera and Lens Kit
$500 Shutterfly Gift Card
Medela Pump in Style Breast Pump
Instant Win Prizes: Mom can play the instant win game once a day for a chance to win one of the fabulous instant win prizes below. Over 300 lucky moms will win instantly. One lucky winner will receive the Grand Prize
3 Professional Photo Shoots
Canon® EOS Camera and Lens Kit
A GoPro® Hero 3 Camera
A 13-inch MacBook
Adobe Photoshop® Elements 12 and Adobe Premiere® Elements 12
Beginnings Baby Record Book
$500 Shutterfly® Gift Card
$500 Pickles & Ice Cream® Gift Cards
Medela® Pump in Style Breast Pump
A What to Expect When You're Expecting® Book Set
Over 300 lucky moms will win instantly!
Similac® Prenatal Vitamins
Similac® for Supplementation Formula
Shutterfly® Gift Cards
Snoogle® Full Body Pillows
Beginnings Baby Record Book
Medela® Pump in Style Breast Pump
A What to Expect When You're Expecting® Book Set
I don't know about you, but that sounds pretty awesome to me! Strong Moms Giveaway is just what you need to get started on your journey with your newborn. Read here for complete rules and regulations.
Disclaimer: "The designers and manufactures whose products are featured in the giveaway are neither sponsors of nor affiliated in any way with this giveaway, nor do they endorse products or services of others included within the prize. All trademarks and service marks included on such products or services are property of the respective designers and manufactures."
More Adventures with Babies
Ultimate Guide to Baby's First Year